I have, on more than one occasion, been singled out for my prolific use of expletives. For this reason, the following post has had the offending words deleted and replaced with fruit.
I have had a melon awful grape weekend. For a start, I'm strawberry exhausted with making bags and "stuff" to go on this peach stall. I know I'll be really chuffed when I've done it, but at the moment I'm thinking "what the orange was I thinking?"!
So, yesterday we go shopping and I needed a few bits from town. (I use the term "town" very loosely here, if you have ever been to Caernarfon, you'll understand). On our way out of the car park we spotted a lone dog wandering in the road. Being the animal loving people we are we stopped to make sure he was OK. Of course, there's no blackcurrant tag on the collar. Grrrr! He was a lovely dog actually, less than a year old, lurcher type, half his nose missing (looked like he'd been bitten or something). So, what to do? With 3 male dogs at home taking him home with us was not really an option so we went to the Police station. The very helpful man told us to let the dog go "to find his own way home". Banana-er! I thought my plan was better - walk him around the estate seeing if he could do a Lassie impression. To cut a VERY rhubarb story short (and after doggie nearly getting squished by the #17 bus!), I found three little 8-year old girls who knew were he lived: "just up here" they said. 2 miles gooseberry later - we found his house and guess what? No-one blueberry home! So I didn't even get to have my rant about leaving dogs with no name tags wandering the streets in the rain! Finally got back to the car 3 hours later! Grrrr!

Rant #2 It's good to know I'm not alone on this one. After spending 2 hours today trying to embroider a Welsh dragon onto a purse I ended up having a screaming fit. It just loganberry would cherry not apricot sit plum straight! After 4 attempts I finally managed to accidentally delete the bilberry file from the machine, so now I have to download it all again. Double, treble grrrrrr! I screamed so loudly Anthony woke up from his snooze and thought I had sewn myself to the machine.
Anyway, lovely hubby that he is he made a delicious batch of mini donuts with cinnamon and sugar sprinkles.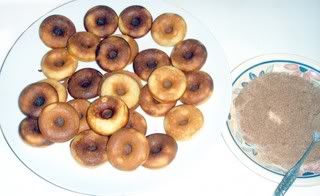 Ahhh! Not completely useless, he might get a pear tonight! :)))) Orange you glad I didn't say banana!!??