Hello to anyone who has found this blog via the Glynllifon Craft Fair. I met some great people and had a wonderful time. The other exhibitors were all really helpful - I suppose we all have to have a "first time fair".
I was a little worried what to expect but, luckily for me, I was pitched next to the lovely Laura, who makes gorgeous jewellery. These things really make you appreciate how many clever, crafty people there are out there. Anyway, thank you again to Laura for the encouragement and support over the weekend, you made the experience much easier for me.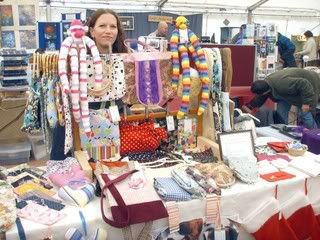 So.... how did I do? Well, I didn't make a fortune. In fact, I was a little disappointed with sales considering the amount of people who stopped by to look (and if I had £1 for everyone who picked up and examined my basket bags I'd be a rich woman). But, I did manage to make enough to cover costs and a small profit for more materials so, for a first go, I mustn't grumble. More importantly, I learned a lot about selling at fairs. I haven't worked "on the front line" for years so it was nice to get back into the habit of chatting to people and engaging, talking about the product, and generally just being sociable.
On Friday I managed to get my picture taken for the local paper so, with a bit of luck, I'll be featured next week. Lots of people took cards as well, which is all good!
I'll be posting again a bit later with my tips and tricks that I picked up this time (and that I'll be having a go at next time). I just need to catch up on some housework and call a couple of places about other fairs (see, I haven't been completely put off).