I feel like I'm not accomplishing anything lately.
The kitchen is mostly painted. I need to paint the larder door but as we have to keep it closed At All Times, to avoid Paddy eating everything in there, I have to wait until the door frame is dry enough to attach the dog gate to it.
I have mostly finished the quilt that has been hanging over the banister for about 2 months. It's a Christmas present for my Nan who, as an Octogenarian, does not use the Internet so it's pretty safe to assume I can put a pic here. All the fabrics are thrifted so it's actually cost nothing except the wadding. I used my walking foot for the first time today on the sewing machine and it did actually make a difference - especially given the shoddy job I did of basting it all together. Unfortunately, it was left hanging by "the race course" (ie on the landing) so not only did it get trampled all over during a doggy chase, but someone (Wizzle?) pulled wads of wadding out from the unquilted corner. So I think I'll have to rethink and use my edges as the binding (saves me making some I suppose).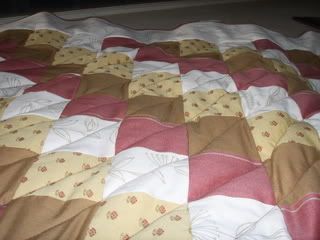 And I've mostly got myself organised for the Craft Fair on Friday. I need pegs, which I couldn't get because Ant's car wouldn't start yesterday so he took mine to the station, which means I'm stuck here and can't go shopping. But here is a mock up of kind of what it will look like. It's in the dining room which is currently being used as a holding room for all the kitchen bits while I paint the kitchen so ignore the mess. But I have found enough calico to cover the table to the floor (phew).




Actually, it all looks a bit of a jumble in that picture, it looks a lot nicer in real life. I just hope I sell something!