OK, being the spoiled Mrs Marmadaisy that I am, I got LOTS and thank-you to anyone who bought/made me anything.

There were just too many to take pictures of but my favourites are:

This spool /thread holder that Ant made (all by himself, without prompting) which has 136 nails and is covered in the same wallpaper as my workroom. It has enough space for my embroidery threads and sewing cottons and it's so much better than having everything stuffed in a box.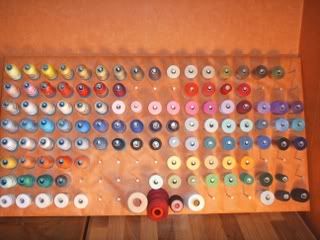 He also made me this bird-house from reclaimed timber (hand-made and recycled! Good boy!!!) It has a little front door so we can put hay in for birdies to nest and a tray for seeds. We had to put the food on nails at the sides becuase the first bag of peanuts went to Paddy, who managed to jump up and pull them off the table.




My "main" present was a set of Le Crueset dishes which I have long coveted and never managed to get my mitts on. The pans and casserole are made of cast iron covered in enamel and the dishes are enamelled stoneware. They are Aga friendly, and I can't wait to cook roasties in them tonight.




And finally, this gorgeous necklace and earring set. I love it!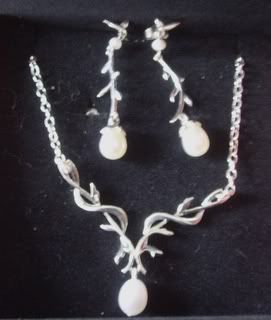 Thank-you Ant for my lovely things xxxx

Hope everyone else got what they wanted and had a great Christmas!