I didn't take a before shot of this one, because it was a spare of the moment re-do and I didn't think of it. This literally took 15 minutes to do.




My neighbour donated a big bag of scraps and amongst them was a jumper that was labelled a size 16 but had obviously had a little washing accident. When I tried it on, it fitted perfectly in the body but was way too short in the arms.

I cut off the sleeves (on the sleeve side, so the stitching around the arm hole is intact and therefore won't fray), and added a little ribbon flower. And that's it!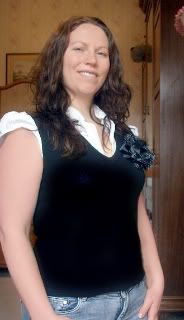 To make the flower I used about 40 inches of thick silk ribbon (about 2"), ran a double length of thread along one edge and pulled the thread to make a gather. I then just rolled it loosely until I liked the shape and stitched it at the base. Then I stitched it to the top.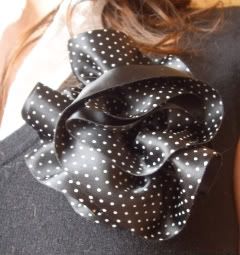 OK, it's a little short to wear on its own, but with this vintage style blouse underneath I think it looks great!