The thing about having a Nice Big Garden, is that you also get the Nice Big Gardening Jobs that go with it. So, because it's been a super glorious weekend, we have spent all weekend working away outside. First, Anthony made a start on the roof of the old pigsty (which has been roofless for months as he buggered his rotator cuffs and couldn't lift his arms above his head).



I cleared up weeds and dug up the vegetable patch - which I have to say has been a sorry state all Summer! I had flashbacks when I raked the grass, which reminded me of walking home from school with my friend, Marie, running down the street kicking up the neatly raked leaves. Some poor council worker getting paid thruppence an hour probably spent all morning raking them up!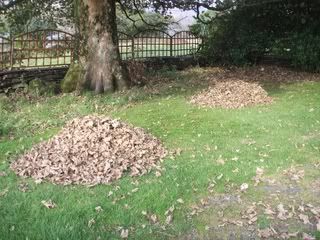 Plus, I cut out around our stepping stones (but was too knackered to go inside to get the camera).

And then I have spent ages redoing my website and logo (I know, another logo, but this one is for keeps as I have had my cards made up now) ... more about that soon.