Mr Marmadaisy and I were just speaking yesterday about what a difference having an extra hour of sunlight makes to the way one feels. All this grey, wet, gloomy weather has really been getting me down lately.

Yesterday was FREEZING but we missed out on the promised snow. I'm quite glad actually because, although I enjoy playing in the snow, it's not so much fun slipping about on ice when you're trying to feed horses and clean stables. It was also light by 8am and didn't go dark until after 4.30 so we really are starting to feel like the gloom is lifting. When one lives in the country, it seems that one's body clock alters with the daylight hours. In the Summer I work until 10pm but in the Winter I start to wind down at 3. Weird.

Anyway ...

I've been after making myself some lounge pants from Amy B's In Stitches book for ages. They're really roomy and comfy and just the thing for, well, lounging. Problem is they use up metres of fabric, so that makes them quite costly. Unless, you manage to spot this fantastic duvet cover in a charity shop for £3. Bargain!




I think the woman thought I was quite mad when I said I was going to make trousers out of it. It's quite thin though so I think I'll make a lining from the reverse side of the duvet. I should also have enough to make a nice matching top too. Result!

I'll have a go at those this week and post the pics.

The other thing is that because of the extra bit of day-light the chickens have started to lay. Here is the first egg of 2008! In fact, it's the first since about October.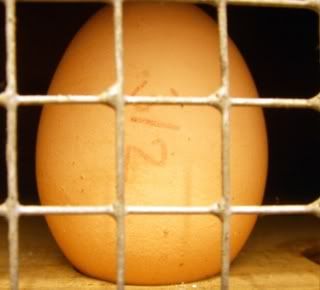 It's funny how such small things really cheer me up. I probably ought to get out more.

There's also something very exciting happening tomorrow (Monday) but I can't say much about that until later next week. But it's a goodie ...