They say "necessity is the mother of invention", and that certainly seems to be the way I come up with my tutorials.
I had an another idea for some
push pins
(which I'll probably make tomorrow), but then that reminded me that I actually could have done with a cork notice board for my sewing room. I like notice boards, but usually they are very functional. That probably doesn't matter once it's covered in "stuff". William Morris said, " have nothing in your house that you do not know to be useful, or believe to be beautiful ". Or you could have both!!
My solution was to make myself a fabric pin board, specifically to be used with my decorative pins (of which I need to make more). The idea being that I can pin my projects, inspirational piccies, pattern instructions etc out of the way but still in view. It is essentially a giant version of the
pin cushion
.
So, this took about 20 minutes to plan and about an hour or so to make. The non-sewers will be pleased to know that there is just a
tiny
bit of hand sewing, which could probably be avoided if you have suitable glue, tacks or similar.
As with all my tutorials, I'll give the details for the one I've made but this is customizable (is that even a word?). And it's easy. I'm happy that you reproduce this, pass it on or blog it but please do link back to me because that's what we do in a polite society.
You will need:


Some board, I used an old back of a picture frame that must have had its glass broken at some point (hurray for recycling). Use something like chipboard. Mine was 20"x28"


A piece of fairly thick cotton or canvas, as big as your board plus 2" extra on all sides (so mine ended up 24"x32")


Double sided carpet tape (2" wide)


Foam or wadding (I used upholstery wadding because I had it handy), the same size as your board


Enough ribbon to make a lattice work. Mine took about 4 yards.


Some picture framing tape (or masking tape)


Tacks and a hammer


Spray adhesive
How to do it:
Right, first of all cut your fabric out. My mum got this fabric for me and I kept getting it out to make a bag, and it kept telling me it didn't want to be a bag. I think it suits this project perfectly.
Stick double sided tape on all 4 edges of the wrong side of the fabric. Leave the paper backing on for now. Don't overlap it or you won't be able to pull the backing strip off.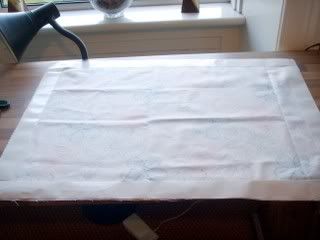 Next, cut out your wadding stuff. I like using this furnishing wadding because it's flame retardent (handy if you're putting this in the kitchen), and can be manipulated easily to fit your shape. This stuff is a bit like cotton wool so you don't even need to cut it, it just pulls apart.
Spray the board with spray adhesive and pop the wadding on top. This keeps it nicely in place so you can fiddle with your fabric. Turn the board over and tidy up around the edges. You don't want any wadding hanging over the sides.
Now, carefully pull off the backing paper from the fabric piece. Be very careful not to get anything stuck to it as it's a major pain in the bum to unstick. Carefully, place the board and wadding onto the fabric, getting it in the centre as best you can.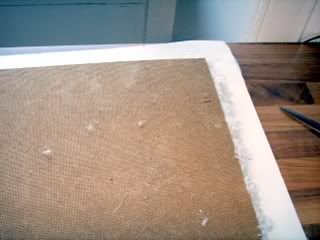 Mine was a bit skewed and, although it doesn't really matter, it makes everything a lot nicer if you can be neat about it.
Mitre the corners. Push down on the board so you can clearly see where to cut. Don't cut too close to the corner, I left a space of about 1cm between the corner of the board and my cut line.


Carefully fold over the two long edges, pulling the fabric taught and pushing down slightly on the board. Smooth the sticky fabric down and press in place.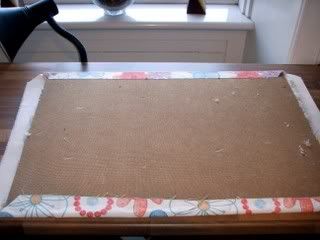 Now, neaten the corners like we did here. You probably don't need any extra glue, but you could use some if you wanted.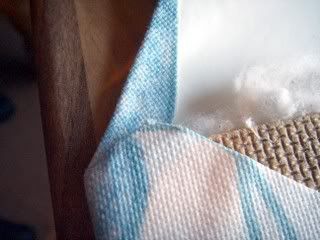 Push the fabric over and around the corner of the board so you get a clean and neat finish. Then fold over the short edges, again smoothing and keeping the fabric tight. Use picture framing tape or masking tape to cover the edges of the fabric. This will stop any fraying or unsticking.
Now, turn the board over and place two strips of ribbon from corner to corner to form an "X".
Use pins to pin the ribbon underneath, pinning into the fabric on the underside.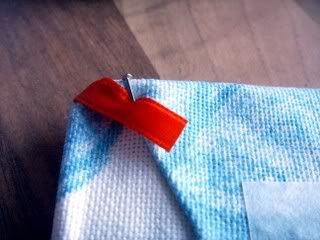 Measure and mark out (using tailor's chalk) the half-way point on all sides, and the halfway point on each "arm" of your X.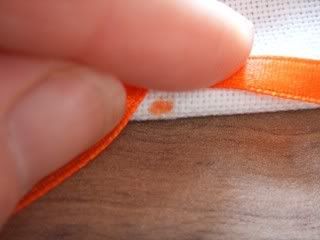 Then put more strips of ribbon diagonally between the mid-points, pinning in place. Fiddle until all strips are neatly crossed and lined up. Then turn the board over and hand stitch all ends in place, trimming off the excess ribbon.
Finally, hammer a panel pin or small tack into the points where two ribbons cross. Don't do this bit on your best dining room table. Just tap the pins in place until you can feel that it has started to go into the board, then move the board so that you can hammer the pin through, without it going into anything else (like tables, floor boards, or fingers). Turn the board over and carefully hammer the ends over to keep in place. For safety, I put some heavy duty tape over each end so it doesn't damage wallpaper or skin.
And there you have it! You can pin into the fabric, or slide underneath the ribbon lattice. Of course, you would need to screw in some picture screws in an appropriate place so that you can hang it on the wall, but I'll get Mr Marmadaisy to do that bit because our walls are weird and crumbly.