I was lucky enough to be chosen as one of March's U-Handbag Amy Butler contest winners, and as my prize I chose the Anna Tunic from the range.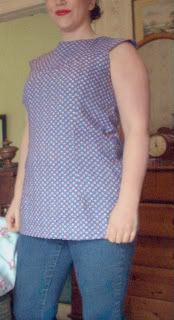 Over Easter, I've been having a little play with it. It's always a good idea to trace out your pattern onto tissue or tracing paper so that you can make adjustments to it without spoiling your expensive pattern pieces - I like fabri-baste. I always make a "test" item first too, before using my more expensive fabrics. I used some donated fabric to test out the pattern - and it's still a really cute and wearable fabric.

Anyway, I made up the pattern as per the instructions and, before hemming, I tried it on. I had made the version that was between my size and the next size up, just in case. It's easier to make a garment smaller than bigger. Anyway, it was way too big so I redid the side seams.

It wasn't a very flattering cut for me because I'm getting curvier as I get older. To be honest, it looked like I was wearing a bag. It's not so long ago that at that point I would have said "oh this doesn't suit me" and put it away in a drawer. But now I know better.

I put the tunic on Mary II(my dress form), and marked where darts should go under the bust. I made these long darts that almost go to the bottom of the tunic. I then gathered the back and pinned where it should "sit" on the waistline.




I used machine basting to do the darts (so I could check on me if it was a good fit), then sewed them when I was sure of the measurement.

To fix the back, I made a fabric strip 8" x 6" which I folded as I would a belt (press into the middle, fold in the sides and edges, then sew all around) and I put a buttonhole at each end. I then used my marks from earlier and tacked buttons in place on the tunic back (further apart than the length of the strip) then attached the strip. I then tried it on again and it's much better.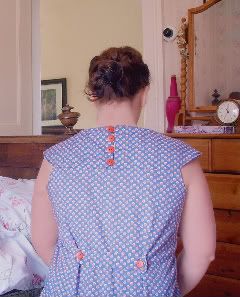 On this picture it looks like the buttons aren't straight, it's just the way I'm sitting!

I hope it does justice to the original. I just need now to make the alterations to my fabri-baste pattern and the next one will be entered into April's competition.

I've also made a skirt that just needs a little hand finishing, but I have a mountain of University work to do so it will have to wait.

Hope everyone had a great Easter and didn't pig out on too much chocolate.