This is Animal.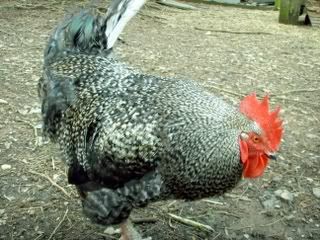 This is Animal mid-peck, aiming for my feet.


He was meant for the dinner table, but the wrong chicken was killed.
He crows incessantly, day and night.
He attacks for no good reason.
He is very grumpy.
He has no manners.
He saved the lives of all the chickens yesterday.
The wind blew the gate to the chicken enclosure open. Well, to tell the truth, somebody didn't close the latch properly (look, it was 7.45am, still dark, and I've had nearly a full month of not surfacing before 9.30. OK?). Anyway, we were in the kitchen and suddenly the Charlie and Wizzle rushed outside. They do this from time to time. Usually to chase a cat, squirrel, bird, leaf, or anything else that they can hear and I can't. Not worrying too much about it, I followed them out.
How impressive to see Animal fighting off both dogs, keeping his girls safely behind him. What a hero! The dogs weren't sure what to make of him at all, and quite happily came to me when I called them. Of course, Animal also attacks me, so I had to use a broom to shove persuade him back into the pen. Wizzle is now frightened of the chickens, so I guess he's had a peck.
This is Wizzle keeping his distance.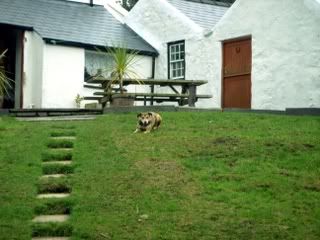 It was all much easier to deal with than last time, when Paddy tried to eat a whole, live chicken while the other two played tug with her wings.
I guess he has finally earned his keep.