Have I ever mentioned how I hate commercial soaps? Well, some are better than others, but generally I find they don't play too nicely with my sensitive skin. And an awful lot of them are still not bunny friendly (you have to watch this, because they often say "this product is not tested on animals", but that doesn't mean that the ingredients haven't been either, or that it hasn't been made by a company that is a bit mean about putting crap in animals' eyes).
So, I tend to buy handmade soaps from nice people who only put nice things in their products. My favourites are
Lush
and
Tigermuffin
.
And now there's Marmadaisy! Actually no, I'm not going to sell these because you have to get all sorts of health and safety regs sorted out and I don't think my kitchen full of dog hair and Aga dust would quite cut the mustard.
It has taken me the morning to whip up batches of:
Magic Love Spell (lilac coloured) - a blend of jasmine, ylang ylang and rose with real grated nutmeg
Patchouli (pink) - you either love it or hate it
Gardener's soap (green) - Tea tree and Aloe Vera, especially for use after gardening or emptying the bin (blech)
Citronella (yellow) - fresh and lemony and great for keeping the midgies away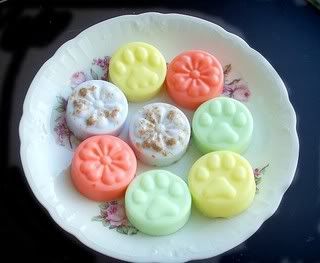 They came out a bit more bubblegummy coloured than I wanted.Perhaps it was because I used an opaque base. I love how they look though, like little cakes. I have just washed my hands with the tea tree one and they smell lovely and feel quite moisturised. I really will have to get making more of these. I think I have just found my new favourite hobby!

By the way, NOTHING in these soaps is tested on animals, unless one of the dogs rolls in something this afternoon and then they might very well get a dose of tea tree bathing.
I have been thinking of doing another giveaway for my birthday (which is in about 2 weeks) - so I would love some feedback on whether a couple of soaps would be enough to tempt people to comment. (Because there's nothing worse than saying "comment for this draw" and then nobody does)